How to use your own domain with Hotmail/Outlook.com?
It is very easy and for some reasons it is very useful especially if you are not one of the anonymous internet users and an address like YourName12345678@outlook.com is not suit you.
Firstly, you have to register your domain using one of domain providers. Then when you already have your domain you should go to your e-mail provider's site and check if your domain could be connected with your e-mail account. For me Outlook.com which in fact is Hotmail has the best service if we think about a big amount of e-mail boxes. That's the reason why our tip will be connected with Outlook.com.
Windows Live Admin
Go to
Guests cannot see links. Registration or Login is required.
and then clik "Get started" - if you do not have a outlook/hotmail/windows mail account, you will have to register and then to sign in.
After this you will see a windows where you have to provide your domain name.
Provide it and choose "Set up Windows Live Hotmail for my domain" and confirm it by "Continue" button as it is done in the picture below.
When it is done, you will see an instruction how to make your domain works with Windows Live Mail. There are some settings but the most important is the first one. People call it MX record and it will allow everything to work as we like.
You have to copy MX server which is underlined by using a blue colour in the picture below.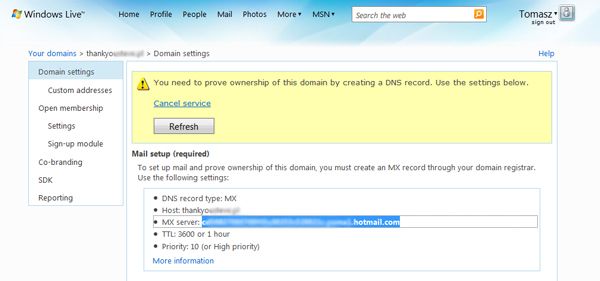 Now - you have to pase that MX server to the DNS zone's editor. You'll find it either in your domain provider's editor or in your hosting provider's editor. You can save some money if you choose a domain provider with DNS zone's editor - then there will be no need to pay for a hosting account to edit DNS zone.
After all you are in a right place and able to set our MX record. Our task is to find an MX field and then to put our MX server there, choose correct priority - 10 or higher. Save changes and it is done.
I use polish version of some software so it's highly likely you will not understand what buttons in the picture below means. Here's the explanation:
dodaj - add
dodaj rekord DNS - add a DNS record
At last we can use "refresh" button in Windows Live Admin. Success!
We can create 500 e-mail boxes in our domain. We can also use Open membership which means you'll get a banner for your website and if someone click on it - one will be able to open an e-mail box in your domain automatically.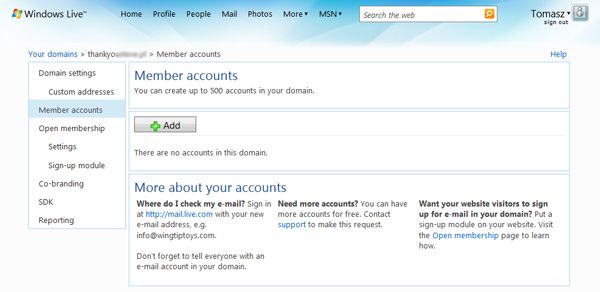 When you create your new e-mail address, you can log in to this by Outlook.com Enjoy!